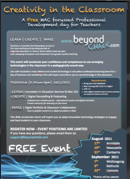 LEARN | CREATE |  SHARE
BEYOND CHALK presents NOTEBOOKS FOR TEACHERS PD SESSIONS Teachers participating in the NFT program can attend any – or all – of the sessions
This event will accelerate your confidence and competence to use emerging technologies in the classroom in a pedagogically sound way.
Join with Australia's 

most utilised and trusted

 technology in education professional learning team  for a day of seminars and workshops that will inspire and inform you to use technology in the classroom.
BEYOND CHALK presents NOTEBOOKS FOR TEACHERS PD SESSIONSTeachers participating in the NFT program can attend any – or all – of the sessions on offer to boost their Mac skills and learn great tips on how to incorporate their Mac skills into the classroom.  Spaces are limited.
Session I:  Learning Foundations Learn how to use Apple's productivity suite, iWork, for a number of learning tasks.  iWork helps you quickly and easily take your documents and presentations to the next level.
Session II:  Mobile Learning  This workshop is a comprehensive introduction and guide to creating resources for learning on the move. You will learn how to create, edit, and add effects & pictures to audio recordings.
Session III:  Digital Storytelling Digital storytelling presents educational content through a range of rich media, which engages and motivates students from the start.  This session will show you how to use applications from Apple's creativity suite, iLife, to organise and produce stunning multimedia projects.  The session will cover multiple applications, but see the attached Digital Storytelling flyer for more information on iMovie.
This Skills Accelerator Event will inspire you to adopt innovative technology strategies to engage and lead students in your classroom.
REGISTER NOW – EVENT POSITIONS ARE LIMITED
Should you have any questions, feel free to contact us at: support@beyondchalk.com